Why use instead
Instead is an integrated business solution that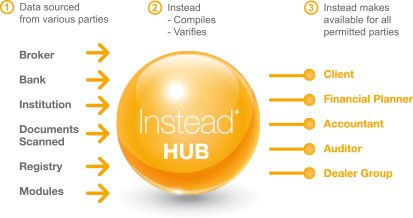 can be tailored to meet your business needs.
It's modular approach allows you to subscribe
only to the functionality that your business requires.
This makes Instead a suitable system for various
business types including accountants, financial
planners, dealer groups and auditors. As a white
label solution it allows your client to see only your
branding when viewing documents and reports.
It allows several related parties to view the same data
set, eliminating the need for duplicate data
entry.  Instead's permission system allows you
to control the access your staff, clients and related
parties have to documents, reports and personal data.
The benefits delivered by Instead's integrated
and paperless office solution include building stronger
client relationships, increased productivity and
reduced costs.